Good Morning Everyone,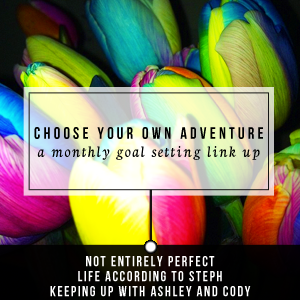 Today we share our progress on our goals from last month and find out what our goals for this month will be! Let's get started:
January's Goal: COMPLETE
So here are my "Complete" Goals:
1) Complete the entire month using the cleaning schedule I've started this week.---

Great Success! I love my cleaning schedule and I'm not sure how I ever lived without one! Not only have I stuck to it but I have gotten ADDITIONAL things done because of it! I have so much more time simply because it is managed better!
2) Complete all tax prep--

Not only is the prep done but the whole thing is done! Taxes are filed and sent! HUGE weight lifted!
3) Complete edits on my finished first draft of Book One---

Well Edits are not completely done....I have some serious work to do as I found some major plot holes and actually want to rewrite an entire section BUT I did do a huge amount of editing and wouldn't have found these issues without it...so I count it as a Win.
February's Goal: CREATE
1) I want to create a costume for Comic Con in March. I am going all three days and one of them I want to Cosplay. Wish I could sew...
2) One piece of artwork for my home
3) Does more work on the novel count? I'm counting it.
How did you do on your goals last month? Are you joining again this month? What are your "Create" goals? Be sure to join the linkup and let us all know!
Happy Thursday Everyone!