Good Morning Everyone,
It's time for the Choose Your Adventure Linkup!!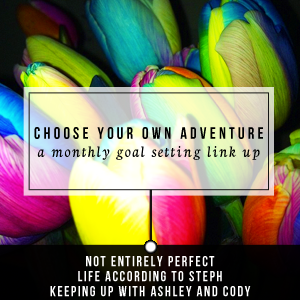 February's Goal: CREATE
1) I want to create a costume for Comic Con in March.---

Well....not so much. Kyra has a costume that I picked out and my mom created that I will reveal after Comic Con next week...but as for me? Yeah...nada. It has a lot more to do with my own self esteem issues than actual creativity...but still a big NO on this one.
2) One piece of artwork for my home

--This is actually an "in progress" one. I have the piece I am working on...it just isn't done yet because it has been too cold to really work on painting it. So I only get half a point on this one.
3) Does more work on the novel count? I'm counting it.

---Yes! Major edits were done but still not out of the editing phase yet. I have a whole section that still needs a rewrite in order to fix some plot holes. Half a point again.
March's Goal:RELATIONSHIPS
1) A half hour to hour of stretching/fitness/wellness- Relationship with Self and with Kyra (she's been doing my morning stretches with me! So Cute!)
2) Plan get together with friends for the upcoming months--Friendships
3) One date night just Robert and Me- Husband and Self
4) Bedtime Story Time- Kyra, Self, Husband
I'm looking forward to March's goals! I actually am working on a post about Number 1 on the list as it is something that Kyra and I just started! That post should be up on Monday or Tuesday!
So how did you do last month? Were you Super Creative or kind of give it a miss like me? Be sure to share in comments!
Happy Thursday Everyone!
P.S.- A BIG Thank You to all those that wished my Mum a happy birthday the other day! She had a really great day!