Good Morning Everyone,
Today is the day of my favorite blog linkup ever! It's time to Show Us Your Books!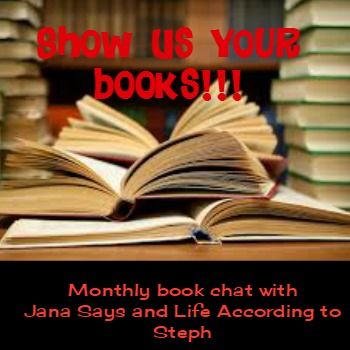 I read some really great books this past month and I am very excited to share them with you! There were a couple duds but honestly it was a great month of reading!
Here we go:
The Program by Suzanne Young: Suicide is now an epidemic. 1 in 3 teenagers kills themselves before they reach the age of 18 where the epidemic suddenly seems to stop. Teens are monitored closely for any signs of depression, anxiety, or anything deemed "abnormal". If they show any sort of signs they are taken and sent into The Program. --Really liked this one and I am looking forward to reading the next two in the series. Fans of the Hunger Games and Divergent would probably really get into this series!
Everything I Never Told You by Celeste Ng: This book is basically one of my worst fears as a parent. Trying to right all your wrongs in your children is a dangerous trap to fall into. Sure you want the best for them but there comes a point when it is more about your missed opportunities. I enjoyed this book but the communication issues in this family had me screaming at them more often than not.
Sea of Tranquility by Katja Millay: This book is simply beautiful. I loved the mystery and absolutely fell in love with the characters. I was hooked from page one and could not put it down. I loved how the ending played out as well. Beautiful and heartbreaking all in one. I don't want to give anything away so just make sure to add this one to your list if you haven't already!
The Kind Worth Killing by Peter Swanson: I loved this book. I loved Lilly from the moment I met her. She was brilliant in the scariest of ways but I was on her side immediately. I loved the mystery, all the other characters, and basically everything about the story line. Couldn't put this one down at all!
Paper Towns by John Green: Womp. Womp. I admit I picked this up because the movie is coming out and the trailer had me intrigued. However this book was a disappointment for me. I know I was "supposed" to like this one as well as a HUGE number of people really do, but after the initial "big night out" I got really bored. I had to force myself to finish because basically I thought that Margo was a brat. Didn't care if they found her or not. Blah.
P.S. I Still Love You by Jenny Han: Got this one because I read the first one, but I will be straight with you all and tell you up front...I skimmed this. Lara Jean is the most NAIVE high school student ever, like naive to the point of disbelief. Also she is predictable and kinda boring. I just gave up caring about her story. Won't be reading any more of this one if the series continues.
Steal Like an Artist by Austin Kleon: Okay I don't know where I have been that I missed this one but I am adding it to my recommended reading for all writers. This book is short, brilliant, and SO HELPFUL. I started a Log Book immediately after reading it and it has changed my writing, my worries, my day to day life, and that is NOT an exaggeration. I loved these tips so much that I might just hang them all up on my wall.
Girl on the Train by Paula Hawkins: I was worried about this one. SO many people liked it and I was afraid I was going to be in another Gone Girl situation but I am thrilled to say that did not happen! This book was VERY different from what I expected but I was drawn into that world. I finished this book in one day, that is how intrigued I was. The mystery was excellent and kept me guessing and although I didn't particularly "like" any of the characters I HAD TO KNOW what happened.
The Martian by Andy Weir: Again another one that I wasn't sure about. People raved about it...a movie is being made about it...but was it something I was going to like? I mean a lot of people had said there was a lot of math type stuff in it and math is not my favorite. That being said....OMG. I loved this book so much that I bought a copy on Audible so I could listen to it over and over again and I will probably by an actual paper copy in the future as well. This book was hilarious. I was rooting for Mark the whole time and on the edge of my seat. I couldn't read fast enough I was so excited and into the story. Once I finished I immediately wanted to reread it and that is saying something. This will probably be a book that I reread every year. BRILLIANT. I cannot wait for the movie!
So there you have my reads for June! Some really awesome ones and some misses but all in all a great month of reading! A lot of these books came from reading the recommendations from this very linkup and I am SO EXCITED to see what you all read this past month!