Good Morning Everyone!
So today is the linkup for the Choose Your Own Adventure!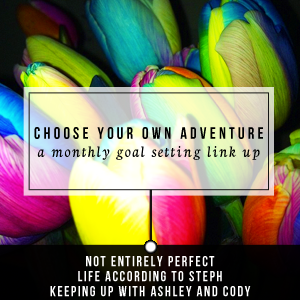 I confess that I totally forgot what it was that I set for December Goals but oh well, New Year, New Start!
January's Goal: COMPLETE
So here are my "Complete" Goals:
1) Complete the entire month using the cleaning schedule I've started this week.
2) Complete all tax prep
3) Complete edits on my finished first draft of Book One
I know it is only three items but I figure it is a good start and honestly the edits on the story are going to take up the most time for sure!
Also on Monday I will be having an update post on how it is going using a cleaning schedule and how I did my first week!
What are your COMPLETE goals? Be sure to join the linkup!
Happy Thursday!