Good Morning Everyone,
It's time for the Choose Your Adventure Linkup! Last Month: Finances!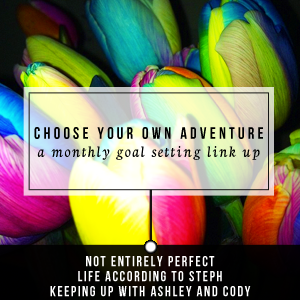 April's Goal: Finances

1) Stick to budget with a limited "free spending" amount

-- Actually did pretty good on this one. Staying home saves money!



2) Organize bills onto my smartphone with updated payment dates and amounts (I still have notifications from things I paid off like...two years ago. My car for example!)

-- Done! Updated and scheduled a lot of them!



May's Goal: Read
1) Get caught up with my GoodRead's Challenge. I am 6 books behind as of today!
2) Listen to at least 1 new audiobook. (This counts as reading too right?)
I think that will be challenge enough for the month considering we are entering the wedding/summer season and things are about to get busy around here!
What are your goals for the month? Be sure to join the linkup!