Good Morning Everyone,
I feel like today is a good day for a fun type post and I have just the one! Today I will share with you the things that make me happy....via Gifs!! Because Gifs are awesome.
So here you go, in no particular order:
Makeup
Tabletop Games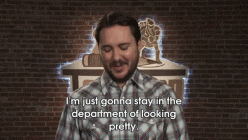 Cosplay
Cocoa in any form
Books
Movie Marathons
Pets
Having my hair played with
So yep a random post for a random Thursday! What are some things that make you happy?
Don't forget to linkup tomorrow with the Friday Favorites!!!