Good Morning Everyone,
It's time for the Choose Your Adventure Linkup!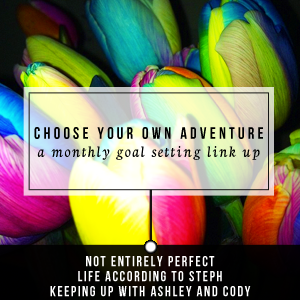 March's Goal: RELATIONSHIPS
1) A half hour to hour of stretching/fitness/wellness- Relationship with Self and with Kyra (she's been doing my morning stretches with me! So Cute!)
--Managed to do this about 90% of the month...it may have been the only thing to keep me from stressing out completely.
2) Plan get together with friends for the upcoming months--Friendships
--Actually got together with two during Comicon...maybe plans for this month but nothing set in stone...half a point.
3) One date night just Robert and Me- Husband and Self
---Life happened. This didn't. Try again next month.
4) Bedtime Story Time- Kyra, Self, Husband
--This happened every night, though some nights it was a super short book, but we kept at it and will continue!
April's Goal: Finances
1) Stick to budget with a limited "free spending" amount
2) Organize bills onto my smartphone with updated payment dates and amounts (I still have notifications from things I paid off like...two years ago. My car for example!)
Nothing too big for this month. I confess finances aren't really exciting even if they are necessary!
What are your goals for the month? Be sure to join the linkup!