Good Morning Everyone,
Today is the last of the Choose Your Own Adventure linkup! I'm a little bummed as this has been a fun set of challenges but with summertime now in full swing around here it will probably be for the best as it gets busier!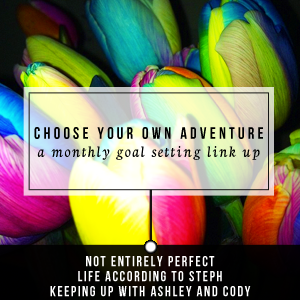 So here is how I did on last month's goals!
May's Goal: Read
1) Get caught up with my GoodRead's Challenge. I am 6 books behind as of today!

---I am currently 3 books behind now. I didn't get completely caught up but I did try. Honestly I have been busy and a little distracted when it comes to sitting down and reading! However I do have a nice list of books for the Show Us Your Books Linkup next week!
2) Listen to at least 1 new audiobook. (This counts as reading too right?)

---I did it! It wasn't a long book by any means but it was a set of short stories with one of the stories being by an author that I follow regularly. Fun to listen to and great for when I was trying to get my daily steps in!
So yes these were pretty small goals to set for myself but honestly I felt pretty good at what I managed to get accomplished!
Can't wait to see how you all did! Have a Happy Thursday Everyone!