The title basically sums up my mindset for the week. No clue as to what day it is or what time it is, however it is apparently Wednesday and that means confession day and maybe if I blog I will get it together.
1. Last week I took Kyra in to a new doctor since we changed insurance plans and had to find a new primary care person. I am so happy that Kyra did awesome at her appointment and even more awesome is that this doctor is literally five minutes away. I really liked him as he was really great with Kyra and she seemed to like him as well. She even had the entire nurses station laughing when we left because she exclaimed "That was FUN Mama!" As you can gather she didn't have to get a shot. (This is not a confession...this is just what happened....see I'm a mess.)
2. I confess that I am never one to pass up a vacation. Even just a one night thing. After the doctor appointment Robert had to go to Omaha and asked if Kyra and I wanted to tag along and stay the night at the hotel with him I packed the bags and was ready to go! Our room ended up being upgraded to a suite and it was AWESOME.
I have no idea what she is doing.
3. I confess we mostly spent our time at the pool because that is Kyra's favorite thing to do, but she also really enjoyed the cable TV. I enjoyed the massive bed.
4. I confess I will never be as on point with my decorations as my Mom.
5. I confess I am really excited to show you all the chalkboard at Mom's house that we have been decorating for each holiday but it isn't done yet and I don't want to spoil it.
6. I confess that I filed our taxes this morning and it feels SO GOOD. #givememymoney
7. I confess that I took a leisurely bath this morning because Kyra was still asleep and the house was quiet and that NEVER happens in the evenings around here. #becauseI'mworthit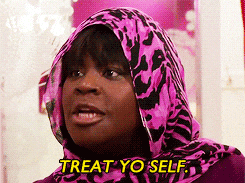 8. I confess the only way to make sure that I am drinking enough water I have to drink through a straw. I have no idea why it tricks my brain into finishing off all that water but it does. #Ihavetopeeeveryfiveminutes
Short and sweet again this week. Have a good Wednesday Everyone.