I am linking up with Holly and Jake for the "Finish the sentence... Linkup."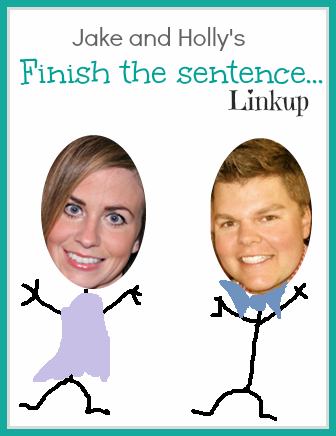 1. People always tell me...
That I have great hair.
2. In the movie based on my life... it has a happy ending.
3. Typically, I end up regretting... not being braver.
4. I always ask to leave off the... condiments on anything for my husband, tomatoes for me.
5. Kim and Kanye really... don't factor into my life at all.
6. My Parents always reminded me...
to be kind and do what you know is right, also to change the laundry.
7. Every single day I... tell my husband, my parents, and my brothers that I love them.
8. This one time in College... we stayed up all night playing Cranium and then watched my guinea pig give birth to three baby guinea pigs.
9. My grossest habit is... biting my nails.
10. My latest white lie was...
"I'm Fine".
11. I know all the words to... every Disney cartoon movie. (This is not a joke)
12. When I grow up...
I want to be an author.
13. Sexy time occurs...
enough that there is a baby on the way! :P
14. I will never, ever...
bungee jump.
15. I think it's hilarious...
and necessary to watch this video when you are having a bad day!
(Pinwheel!)